This is how sheet masks really work! - Silicones and parabens instead of care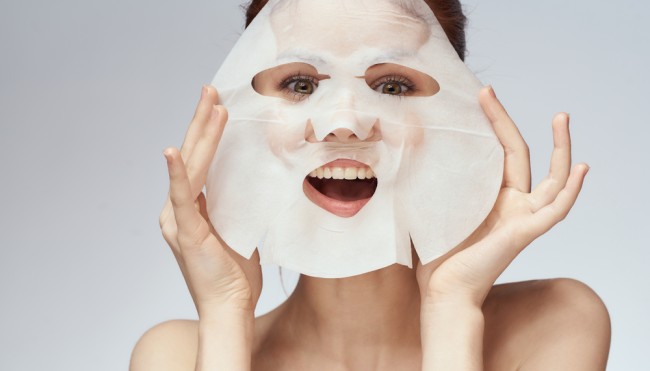 15. Aug 2019

von
The origin of the sheet mask lies in Korea - a country that is also a pioneer due to other innovations related to beauty. In the UK, they are now available for a few euros in the drugstore, but also for significantly more money on the Internet or in perfumeries. The pre-formed sheet masks are saturated with serums and active ingredients to support the natural regenerative ability of the skin, reduce impurities, counteract wrinkles and moisture loss and ensure a radiant and fresh complexion. But can they really keep those promises?
Sheet masks - easy and uncomplicated!
Handling is easier than applying a regular cream mask or serum. The sheet is placed on the skin as far as possible without folding. Then let the dripping piece with cutouts at mouth and eyes work for 15 to 20 minutes. Sheet masks can still be easily used just before going out or travelling.
Beauty bloggers and celebrities such as Victoria Beckham, Katy Perry or Drew Barrymore are enthusiastic about a sheet mask on their faces. But do these masks at a price of 99 cents up to 70 euros really work the miracles they promise?
Sheet masks are full of parabens, silicones & Co.
The manufacturers of sheet masks advertise with the ultimate moisture kick and ingredients such as hyaluronic acid, collagens, coenzyme Q10 complex, seaweed extracts or even diamond powder. This sounds convincingly natural - but only a few sheet masks have natural-based fabrics.
Instead, they are saturated with questionable preservatives, emulsifiers or silicones. Substances such as chlorphenesin or parabens serve for preservation, but are classified as very questionable by CodeCheck: Parabens are suspected of interfering with the hormone balance. Chlorphenesin belongs to the so-called halogenated organic compounds. These are considered allergenic and may also have cell-damaging effects.
Emulsifiers such as PEGs combine water with oil and serve the consistency of creams, serums & co .. Such emulsifiers usually don't lose their emulsifying property on the skin however. This way, they can make the skin more permeable and ultimately harm the barrier function.
Silicones lay on the skin like a film. As this, too, inhibits the skin's ability to regenerate, rather than helping, prolonged use may result in dry and dull, rather than radiant, moisturised skin.
Some sheet masks also contain allergenic fragrances or palm oil. The worldwide demand for palm oil leads to the destruction of rainforests and peatlands and therefore represents a heavy environmental impact.
Sheet masks unnecessarily produce a lot of rubbish
No matter how good the ingredients are, sheet masks usually produce unnecessary waste. In addition to the outer packaging made of aluminium or plastic, the fleece of the sheet mask usually also consists of difficult to break down polymers or plastic. In addition to the ingredients, therefore, the material of the wafer-thin nonwovens is crucial. Some providers like Starskin however, have masks made of cotton on offer.
After a single-use, everything ends up in the bin, while a mask from the tube or jar lasts for a few months.
So how about producing your next mask from all-natural ingredients and without waste?
Ich möchte den Codecheck-Newsletter abonnieren und keine News mehr verpassen